1 is Life (Reignite a Rocks Heart -Goron Headmaster)
1 is Commitment (Promises, Promises, Promises -Zora princess)
1 is Death (Experience Death and Loss -Deku Tree)
Pretty typical basic stuff 3 stone + 6 Temples =

Nordic rune symbolizing the 9 Worlds + Master Sword = 10

A reset for Matrix Fans.

A Complete cycle for Mythology fans.

A full 360 Circle for Geometry and Astrology fans.
Sound Familiar?


Stick it out

and you will

begin

to see

just

how connected these

things

truly

are

to the

story

, as will

begin dropping truth bombs in

which to my knowledge and theory

you can not find anywhere else on the

internet

(Yet) and will demonstrate

just

how deep the Jew naming,

connections

, and

story

truly

go.
In which a Lens of Truth must be acquired to see the unseen. (Knowledge)
Keep the color of the Lens of Truth in mind.
The

amount

of red-pills in this simple breakdown

makes

red-pilled

rooster

go crazy, as will go absolute berserk as we continue

.
They had no idea. :) Sure, Sure.
Best-known

symbols of

Zoroastrianism

, the

state religion

of ancient Iran.
Zoroas"TRI"anism
To be clear I am not selling nor attempting to convert anyone to the belief structure. Neither is the Legend of Zelda. For clarification I am not Zoroastrian in belief. However, study of

Zoroastrianism is one of the greatest Red Pilling topics. And can help one understand and see things they never saw or recognized before.
God damn the continent of Europe. It is of merely antiquarian interest. Rome is only a few years behind Tyre and Babylon.

The negroid streak creeps northward to defile the Nordic race. Already the Italians have the souls of blackamoors. Raise the bars of immigration and permit only Scandinavians, Teutons, Anglo-Saxons and Celts to enter

. France made me sick. Its silly pose as the thing the world has to save. I think it's a shame that England and America didn't let Germany conquer Europe. It's the only thing that would have saved the fleet of tottering old wrecks.

-

Scott Fitzgerald
Only now I want to go ahead and get into one of the most controversial points... Race!
Just a Fun Fact I bet you have never heard this type of thing before, now call me conspiracy theorist but the coincidence is truly amazing. George Lincoln Rockwell (1918-1967), known as "Commander Rockwell", "Rocky", or "Link".
Secret Nonsense
n 1919, the Thule Society's Anton Drexler, who had developed links between the Society and various extreme right workers' organizations in Munich, together with Karl Harrer established the Deutsche Arbeiterpartei (DAP), or German Workers Party. Adolf Hitler joined this party in 1919. By April 2, 1920, the DAP had been reconstituted as the National Sozialistische Deutsche Arbeiterpartei (NSDAP), or National Socialist German Workers Party (generally known as the "Nazi Party").
Just quick point on the (((Theosophical Society))) another supposed secret occult society constantly spewed, believed that all men and women of whatever race or caste, ideology or nation, are equal in rights and in brotherhood. This, main object of the movement is "To form a nucleus of a Universal Brotherhood of Humanity, without distinction of race, creed, sex, caste or color".
Not to mention the constant false accusation against me that I push Satanic concepts and must idolize, promote, and praise the Satanist Helena P. Blavatsky Prominent Leader of (((Theosophical Society))). Whom is without over exaggeration the Antithesis of everything I stand for and believe.




I know no NatSoc whom looks up to the Jewish Theosophical Society, in which every talking head on both Left/Right of the (((1 Party System))) loves to spew. Which is absolute nonsense.
Disclaimer.
Sign language "OK" as you denounce me and my NatSoc position. I don't want to be the reason you stop making amazing content, nor hurt my iconic hero in anyway.




Or send me everything Zelda for free if I am right, I swear to never mention it publicly :)
Now to continue, important to say that before jumping into the symbolism- yes including the Swastika.
Purple, Purple everywhere is posed, Time is Death with Jewish Nose.
Spot the Purple.
Notice both are "Time" (LoRule), even more so connects 2 timelines the "Fallen" and the "Child".
Beyond Gerudo Fortress and past the Haunted Wasteland are a goddess statue and the Spirit Temple. Because of differences in religion, the people of Hyrule say the Desert Colossus depicts an evil deity. Thieves loyal to Ganondorf and Nabooru use it as a base of operations, and experiments in brainwashing using magic are conducted there.
There that Purple again...



They are merely shells that are empty on the inside. They're the shells of spies from an enemy nation sent to investigate Ikana. They have been unable to forget their living days. Even now their spirits--emptiness cloaked in darkness--continue to spy." — Pamela's Father
"I can't see it, but I sense there's a thirst for blood looming all around us... Don't you have a mask that can summon the unseen?" — Tatl
The Message Has Always Been Right in Plain Sight.
How did guy in Purple get the Soul of the Mirror Shield?
The Ultimate Jand Rubbing Jew.

A Terrible Fate of Blood Stained History
PENNINSULA may not be spelled wrong.
Just to BackUp what I claim.
Call me crazy but the NNIN is in Bolder text. Accident?
Not to mention Level 7 is named the "Demon" with the obvious Message.
Must I say More?
Of course there is also Level 8 or the "Lion".
Which if anyone paid attention is referring clearly to the Us Tenth Army in World War II to fight Japan. A cross-branch force consisting of the 7th, 27th, 77th, and 96th infantry divisions of the US Army with the 1st, 2nd, and 6th divisions of the Marine Corps, unique in that it had its own tactical air force (joint Army-Marine command), and was also supported by combined naval and amphibious forces.
Which just happens to be the exact United States Division in Operation Coronet, or better known for the second phase of the invasion of Japan, which would deliver the Atomic Bombs on Hiroshima and Nagasaki.
Although true that if you defeat 10 enemy's without getting hit, they will drop bombs. How pointless as a reasoning for a LEVEL 8 secret. Add it all together, add in everything else I have said, and you tell me what you think.
But now I have not only made these extraordinary claims, but provided evidence to back up everything I have claimed and stand by. Need I continue? I could but that is a lot of information as I have said SO Many things to talk about. How deep does Zelda really go?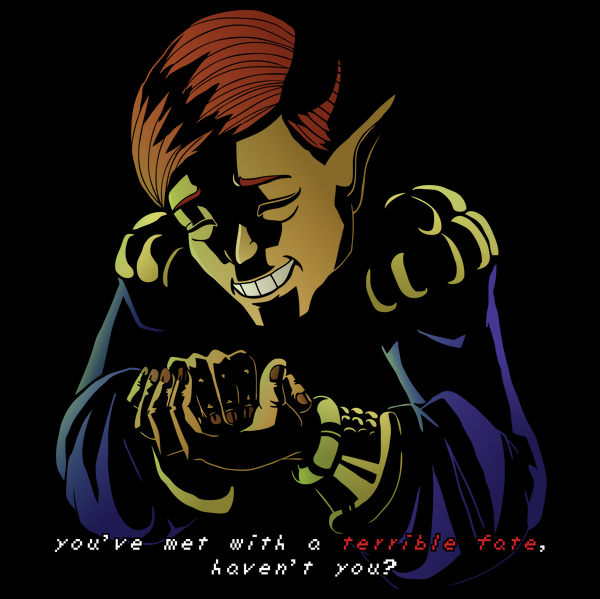 Remember him before we got on the PURPLE topic earlier in the article?

A Faceless Happy Merchant with many magical mask/disguises needed to subvert

and play Puppet Master. Responsible for Majoras Mask.(This is yet another Pillar in my theory for another day.) Meanwhile, evil sure loves that color Purple!!
Lets Make a Connection without making a Connection












Someone must stay behind to watch over this blade. His spirit must not reawaken. He must never be allowed to threaten the world again. This is the nature of the task given to my tribe. As a member of the Sheikah, the goddess's chosen guardians, I gladly welcome this duty. Zelda, I shall watch over the Triforce." — Impa

Zelda, at the command of the goddess, I passed through the Gate of Time. I did so to protect you and aid the fight to prevent the world's destruction." — Impa

It took you far too long to get here. Looking at you, I fear the goddess is mistaken in her choice of agents. If this failure is any indication, you have no hope of defending Her Grace from those who seek to assail her." — Impa












"Among those living in the light, interlopers who excelled at magic appeared. Wielding powerful sorcery, they tried to establish dominion over the Sacred Realm." — Lanayru (Twilight Princess)

"What do you think happened to the magic wielders who tried to rule the Sacred Realm? They were banished. They were chased across the sacred lands of Hyrule and driven into another realm by the goddesses." — Midna
Landing the Plane